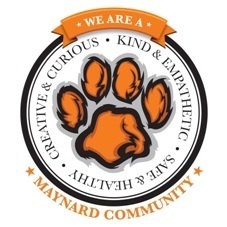 MAYNARD PUBLIC SCHOOLS
Superintendent Search
Intent To Enter Into Negotiations
The Maynard School Committee is extremely pleased to announce its decision by unanimous vote to enter into contract negotiations with superintendent search finalist Brian Haas.
Brian has more than 25 years of experience in public education in
Massachusetts. He began his career as a Language Arts and Social Studies teacher in Yarmouth, then spent ten years teaching in Concord where he was a Head Teacher. In 2007, Brian became the Middle School Principal in the Shirley School District and was later promoted as Principal of the Ayer-Shirley Regional High School in 2010. Currently, he is the Executive Director of the Abby Kelley Foster Charter School in Worcester.
Aside from Brian's credentials and longevity in public education, school committee members were most impressed by what they heard, saw, and experienced during their site visit to AKFCS. The consistent and pervasive themes of communication, unity, team building, inclusion, transparency, accountability, trust, and respect were only some of the qualities that were evident in his district. The School Committee believes with its support and the support of school personnel and the Maynard community Brian can develop and foster all of those attributes and more in our district.
The School Committee looks forward to the next phase of its process and will keep you all updated as developments occur.