Hello Maynard Public Schools, here are the technology announcements for July 2019. The summer is flying by and the technology department is hard at work getting ready for the 19-20 school year.
New Homepage
We will be replacing the old links homepage. This has served as the homepage for every computer in the district for quite some time.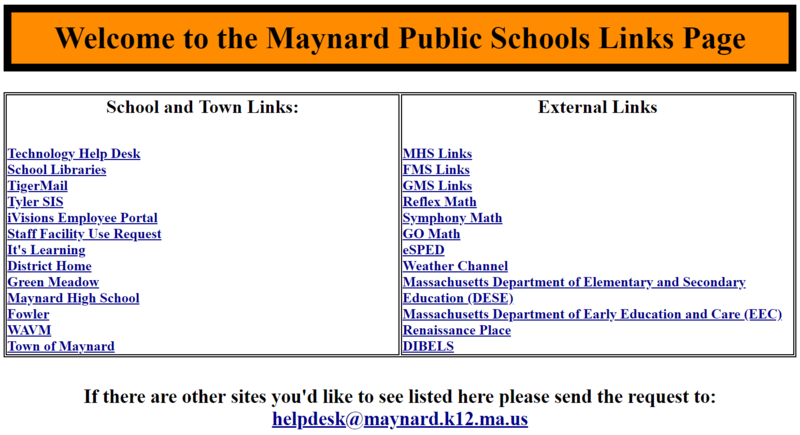 Starting this school year, you will now be greeted by a new links homepage, created on our district website.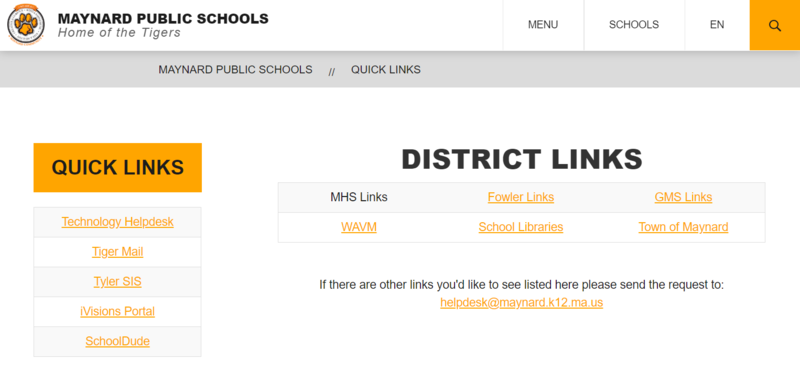 For the time being, the links will just be recreated and cleaned up as needed. We hope to add new links and features in the future. Moving this page to the district website gives us a lot more flexibility going forward.
New Website Content
We are hard at work developing a new Technology section for the district website. There is so much that goes on with technology in the district, we want a place to share as much as possible. It will also be a place to help answer any questions you have about the various technology programs running.
We are looking for community input on what should be included in this section. If there is any information you would like included, please let us know. You can email us at helpdesk@maynard.k12.ma.us.
1:1 Device Selection

After comparing and testing many different devices for our 1:1 program we have found the best options for the 19-20 school year.
All 8th graders will be receiving an HP x360 11 G2 EE Chromebook. This is the newest version of the Chromebook model used last year. It's a great devices that is made extra durable to last longer in a classroom setting. It has both a keyboard/mouse and touchscreen input.
All 5th graders will have a choice of which device they wish to use as part of our CYOD 1:1 Program. The choices will be:
All three devices are great options with their own benefits. We are proud to be able to offer a selection for students and parents to choose from. The goal is for each student to select the device they are most comfortable with using for their learning.
We will be sharing more information about all these devices on the district website closer to school starting
If you have questions for comments about any of the announcements, please contact the Helpdesk.