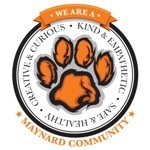 School Committee Meeting Thursday 8/6 at 7pm
Maynard Public Schools
Wednesday, August 05, 2020
The next School Committee meeting will take place at 7pm on Thursday, 8/6.
Please click here for the Agenda, Zoom link, and meeting materials.
There will also be TWO zoom meetings (this is a change to what was sent out yesterday) to hear parent/community questions concerning the Reentry plan that was emailed to families last week, the same plan will be discussed at this School Committee meeting and is contained in the meeting documents.
These meetings with zoom information will be on the website calendar and will take place on:
Thursday, 8/6 at 3pm
Tuesday 8/11 at 7:00pm