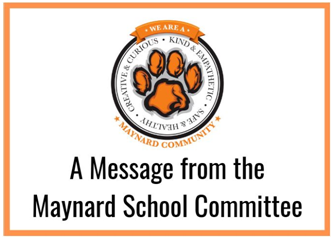 School Committee Virtual Meeting 4/6/20
Maynard Public Schools
Friday, April 03, 2020
Maynard School Committee
Monday, April 6, 2020, 7:00 pm
Remote Meeting
Pursuant to Gov. Baker's Executive Order dated March 12, 2020, suspending certain provisions of the Open Meeting Law, G.L. c. 30A sec. 20, the School Committee has modified meeting procedures to ensure the safety of all participants. The public will not be allowed to physically access this School Committee meeting; video and audio will be turned off for the public. This meeting will be held via a virtual meeting (internet) using Zoom Technology.
All members of the public are invited to join the meeting virtually at:
Option 1 – Join on computer using the link below
Join Zoom Meeting https://zoom.us/j/256075378
Option 2 – Dial the below phone number and enter the meeting ID when prompted.
+1 646 558 8656 US (New York) Meeting ID: 256 075 378
The meeting will be recorded and posted on the WAVM YouTube page under Maynard School Committee Meetings.
NOTE: We will accept Citizens' Comments by email only, Please submit Citizens' Comments to the Chair before 7:15 pm at: bhoulihan@maynard.k12.ma.us .